Women in Construction Week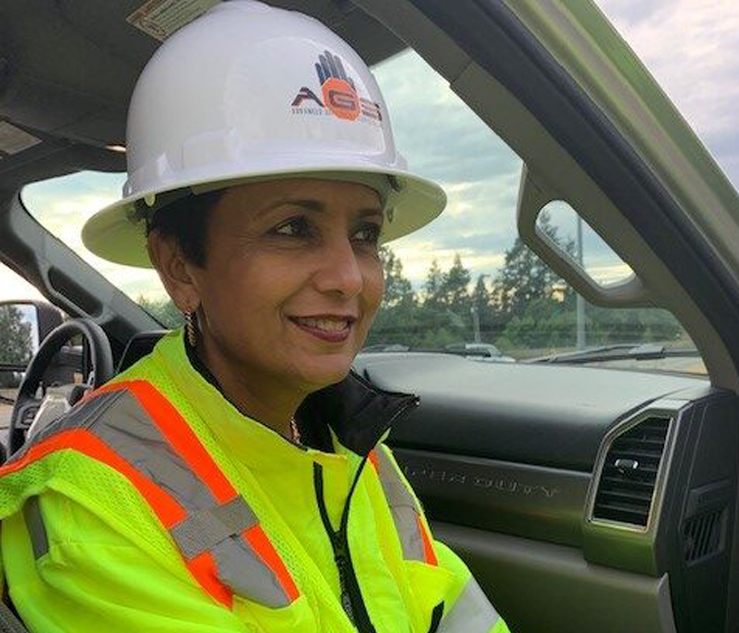 At Advanced Government Services we are celebrating Women in Construction week, if you have not had a chance to meet our Owner and President, here is your chance to do so.
As Owner and President of Advanced Government Services, Inc. (AGS), Arti O'Brien acquired AGS in late 2016 and is headquartered in Tacoma, Washington. Founded in 2003, AGS provides end-to-end traffic control and road safety services on roadway construction projects across Washington, and has recently expanded into Oregon. AGS is both a federal and state certified DBE and WBE in both Oregon and Washington. Prior to acquiring AGS, Arti had a 30-plus year career in the tech industry – holding positions with Motorola and HTC. Arti felt the pull of entrepreneurship and decided to jump across industries to bring her decades of business development experience to AGS.
Moreover, O'Brien noted that relationships are crucial to her business.  Capturing her beliefs, AGS's mission is to be Customer Obsessed, Employee Builder, and a Risk Minimizer. "We work in such a high-risk environment and safety is must always be top of mind, so having the client's trust is important," she said, adding those relationships extend to organizations such as NAMC-OR/WA and the transportation departments in Oregon and Washington.
"These key organizations are priceless because the relationships and connections you make there are amazing. They can be your cheerleaders and influencers. They can do a lot," she said.
AGS is proud to employ a very diverse group of individuals with a high percentage of employees being women, minorities, and individuals who are being provided second chances.
Arti continues to be a leader in the Construction Community, here are a few articles featuring her, also if you would like to learn more about the Women in Construction events organized by NAWIC, Puget Sound click here
Arti's interview with ABC Western Washington

Arti's interview on strategically utilizing debt with the UW Foster Consulting and Business Development Center
Arti's interview with South Sound Business