Join Arti O'Brien for a Changemaker Chat with Entrepreneur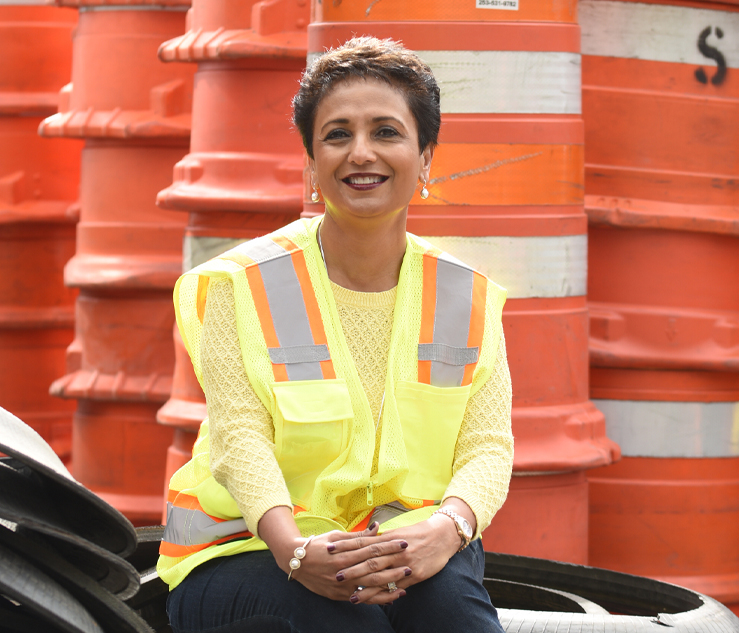 November is election time, and a time when change is in the air. Elect to join us on November 14 as we sit with our featured Changemaker, entrepreneur Arti O'Brien and learn about how she's navigated life and career changes that have led her around the globe from a childhood in East Africa to leading a company in an industry she'd never imagined. Join us to be captivated by Arti's charm, story and insights and also by the views from our venue at the Columbia Tower Club, 75 floors above our Emerald City.
Recognized by the South Sound Business Magazine in 2018 as one of the "Female Business Leaders You Need to Know," Arti is the President and Owner of Advanced Government Services, providing traffic control services across western Washington. Arti took the leap to entrepreneur after spending 30 years in the high-tech industry at HTC and Motorola. Having the gift of building deep relationships with people at all levels from C-Suite to early career professionals, Arti has built a reputation as the trusted colleague, partner and friend her associates turn to for insights and inspiration.
SEA Recap
Arti O'Brien
Owner & President, Advanced Government Services
Being "real" is a key principle for Arti, in every aspect of her life, and this came through clearly in our group discussion!
"This is terrifying, but I don't have a choice."
Arti's upbringing in war-torn Tanzania, led to her family seeking refuge in London and the sudden passing of her father led her to grow up quickly. She had a sense of purpose about making it in this world and having to do "extra" to get ahead. This background has driven Arti's perspective that she really had no alternative: "As an immigrant, you either make it, or you starve."
A fire in the belly.
After 30 years in technology, Arti knew she had lost the 'fire in her belly'. She shared how she needed feel uncomfortable and to go fulfill her dream of being an entrepreneur where she could truly affect people's lives. Mentoring and guiding people's careers is a passion, and although she was comfortable and in a place in her life where she could stop working, she missed that 'fire' and restarted it by being a business owner.
"If your dreams don't scare you, they are not big enough."
Having made the decision to take the risk, Arti sought out to acquire a well established business that had potential for growth, no matter the industry. She knew she could learn the business, but that her skills in building relationships and excellence in execution would serve her success. She had the faith and confidence that it would work out and never looked back.
On being a newbie in a male-dominated industry:
Be yourself and go in with confidence.
Stand up for yourself and show that you're no pushover.
Surround yourself with a great team and the right people.
Be transparent, honest, humble and work with integrity.
Source: https://changemakerchat.com/chats/seattle-changemaker-chat-with-arti-obrien/